We have a guy friend which is actually the guy who gave me my very first happy ending massage.  I didn't know he would become an actual friend.  I just figured the guys who I was letting fuck me would be an occasional fling for us.
Jeff just happens to be a good handyman.  He also happens to be married to another woman but I'll mention that in a minute. Jeff has helped hubby put a roof on the back patio, he has helped with our cars and done some other stuff around the house.  Our handyman hasn't ever asked that we make him any payments either.
Maybe I need to change that just a little.  Jeff hasn't let us make any financial payments to him.  No, we just barter for his services, well I do that is.  The deal was made all in the spirit of fun that I would pay for his services with my body!  That's right, I am paying for things to be done by sexually servicing him.  I have given him head and spread my legs for him on many occasions either before some work or right afterwards.
My husband has actually came home on more than one occasion to the sounds of my moans coming from his bedroom.  The sounds of skin slapping skin could be heard from the garage before hubby even came through the door.  Jeff comes over by invitation by me so that I can make those payments to Jeff.
Don't feel bad for us.  He has permission from hubby to come collect payment at any time and actually prefers to "catch us" in the act of sex.
He loves sneaking into the house and hearing his wife screaming in pleasure as another man pounds her pussy full of his cock.  Most of the time he will stay hidden until my pussy is overflowing with Jeff's sperm as I never have asked him to use a condom, I always prefer bareback.
As far as the married man part goes?  Yes I know he's married and for some perverted reason I can't figure out why I don't have a problem with it.  Maybe it's because I know how good his mouth feels and how much he loves to eat my pussy and 69 me.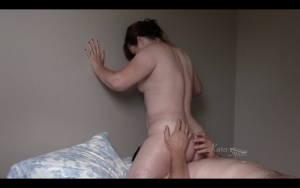 I probably have make payment to everything he has done but you can never be too sure so be assured, I will be spreading my happy thighs for quite some time.  I mean I don't want to short change the man do I;)